Liner Notes The London Session
Stan Tracey albums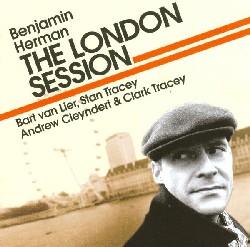 Benjamin
Herman's NEW Album: 'The London Session'
with Stan Tracey Trio and Bart van Lier
Dox Records [CD] ??
Psychoville (B. Herman) 04:40

Bootlicker ( B. Herman) 05:54


Bar Italia (B. Herman) 08:01

Mood Indigo (D. Ellington) 08:12


Tin Tin Deo (G. Fuller & C.Pozo)
09:00

Prozac (B. Herman) 08:40

Love For Sale (C. Porter) 08:06

 Total time 52.49
Stan Tracey – piano

Clark Tracey – drums

Benjamin Herman – Alto

Bart van Lier – trombone

Andrew Cleyndert – bass

Recorded 3
november 2005, Eastcote Studios London
Benjamin Herman's
NEW Album: 'The London Session' Benjamin Herman's newest cd 'The London
Session' is recently recorded with trombonist Bart van Lier and the
trio of the legendary English pianist Stan Tracey. '
The London Session' released on 25 september by Dox Records. As one
of Holland's ground-breaking jazz musicians, Benjamin Herman is a
much sought-after soloist. He's a player who's cut more than his share
of jazz work over the years and a.o. known for playing with New Cool
Collective, Han Bennink and Paul Weller. Also he appeared on over
a hundred records with all kind of artists, from Misha Mengelberg
to Candy Dulfer.
In 2005 Benjamin was invited to progamme Rotterdam's International
Jazz Festival and being a huge fan of Stan Tracey, he managed to track
Stan down for a gig together with Dutch trombonist Bart van Lier.
After this succesfull show Benjamin asked Stan to record a album with
him and so the London Session was a fact. An album especially for
people who love music in it's purist form!
Album Review:
Benjamin Herman, The London Session
(Roach Records)
John Fordham
Friday November 10, 2006
The Guardian

British pianist Stan Tracey is rarely a sideman these days, but here
his taut trio performs with the excellent Dutch alto saxophonist Benjamin
Herman and trombonist Bart Van Lier. It is a 2005 studio set, with
repertoire covering four boppish or Latin-grooving Herman originals
and three jazz standards. Herman combines up-tempo agility with an
attractively bitter tone on long notes and a fondness for vocalised
warbles that suggest Art Pepper. Van Lier is a smooth trombonist with
a bright sound (though a distracting tendency to early-jazz pastiche).
Tracey's zigzagging figures and double-taking silences signify an
elder statesman still at his peak. Straightahead, but with kinks.

---