Liner Notes New Departures Quartet
Stan Tracey albums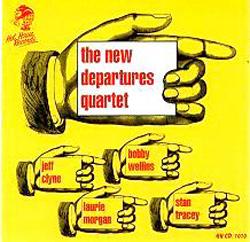 The
New Departures Quartet
Hot House HH (CD) 1010
Love With Variations

McTaggart

Culloden Moor

Let Them Crevulate

Afro Charlie
Bobby Wellins (ts)

Stan Tracey (p)

Jeff Clyne (b)

Laurie Morgan (d)
Recording Supervisor: Victor Schonfield
Olympic Studios, London – 22 June 1964 and 13 July 1964
Bobby Wellins Photo: Mike Saunders
Notes: © Victor
Schonfield – December 1965
Bobby Wellins is probably
the most original and creative jazz musician to appear outside America
since the war, and everyone should listen to him as often as it takes
to be convinced of this. He is one of the few thoroughgoing jazz improvisers,
relying on inspiration rather than formula, and trying always to play
something you've never heard before, so one has to study the invention
even after getting used to the style. Wellins has all the technical
hallmarks of the real masters – an endless fund of melody and of differently
shaped phrases, consistent variation of the volume, tone, length and
inflection of individual notes and of their relation to the beat – but
he is even stronger on intangibles. The strong Scottish tinge to his
playing gives it folk roots every bit as raw and resilient as those
of the blues, and his fragile sound gives it the compulsive honesty
of a public confession Wellins can and does play everything that might
occur to him, and yet one's first impression is of his unusual economy.
His method is to create the maximum diversity of ideas, and yet the
effect is one of tremendous swing. Above all, he successfully combines
the qualities of graceful poise and nervous tension, in a way which
can be compared with hardly anyone.
This album would be invaluable
if only for the fact that it marks Wellin's first proper exposure on
record, after at least five years artistic maturity. It has the added
attraction of presenting him on four of his own themes, and in the exact
company both he and his colleagues need to improvise best as soloists
and collectively. The new Departures Quartet was formed in 1961 to improvise
with poets Michael Horovitz and Pete Brown, and has been appearing ever
since, both on its own and as part of the New Departures Jazz-poetry
group, at recitals produced by Live New Departures. (New Departures
review was founded by Horovitz to provide a platform for experimental
work in all the arts, and has had four issues in print, and several
hundred in performance) Wellins may be a perpetual freelance, but even
more of an outsider is Morgan, who was a leading light of the local
bebop revolution, but has resolutely shunned jazz clubs (first in drinking
clubs, nowadays at the National Theatre) ever since. Clyne is far better
known, and his career has consisted principally of long spells with
Tubby Hayes and Tony Kinsey. The best known is Tracey, who has led the
house trio and accompanied all the distinguished visitors at Ronnie
Scott's Club since its opening, and is the reigning Melody Maker
poll winner on piano.
Since the group aims at
continuous discovery, I tried to reproduce the performing conditions
they were used to. No restrictions were imposed, and the pieces are
as recorded in one take at the same session. Morgan was screened off
for recording purposes, which meant he couldn't hear the others properly
and therefore economised on his contributions, but the others were unharmed
by the studio setup. The haunting McTaggart opens, typically, with what
is a piano-bass duet rather than a piano solo, and then demonstrates
the strength of Wellins Glasgow sound in a blues environment. Afro Charlie
is based on the other standard jazz chord sequence, and displays the
group in a tougher and more purposeful mood. Culloden Moor was included
to give some idea of the group's free improvising, which is usually
saved for their jazz poetry work; it is a reworking of some free improvisations
which are also the basis of a concerto for the quartet with a fourteen-piece
orchestra, the highlight of a Iegendary Live New Departures concert
in 1961. Love with Variations shows it is possible to be rollicking
and yet still aspire to the group's ambitious standards.

---