Liner Notes for All We Know
Stan Tracey albums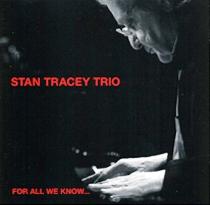 For
All We Know
The Stan Tracey Trio
Trio Records [CD] TR574
Perdido [6.13]
Juan Tizol

Pannonica [5.47]
Theloniou Monk

For All We Know [7.56]
Sam M Lewis / J. Fred Coots

Little Rootie Tootie [9.45]
Thelonious Monk

My Old Flame [9.19]
Sam Coslow

See Meenah Latino [6.25]
Stan Tracey

Willow Weep For Me [8.11]
Ann Ronell

Great Times [4.54]
Duke Ellington

I Can't Get Started [5.13]
Vernon Duke

Total Time [64.00]
Stan Tracey – piano

Andrew Cleyndert – double bass

Clark Tracey – drums
Recorded Live at Leighton Buzzard Theatre,
Leighton Buzzard, UK 26th November 2005
Sound,
Sleeve
design and Photography: Andrew
Cleyndert
Produced by: Andrew Cleyndert
Album
Review:
John Fordham Friday
April 14, 2006 The Guardian
– Stan Tracey, For All We Know (Trio)
4 stars
There are two Thelonious
Monk tunes (Pannonica and Little Rootie Tootie) on this cracking live
trio set recorded in the UK last November, with the 79-year-old Tracey
showing his appreciation of Monk's harmonic innovations and rhythmic
double-takes, while displaying a lugubrious playfulness and lyrical
tenderness of his own. Tracey's jangly unaccompanied intro to Perdido,
his off-handedly compassionate delivery of For All We Know (with Andy
Cleyndert's warm bass sound enfolding him), and the peremptory firebell
sound of Little Rootie Tootie's chords against Clark Tracey's close-marking
cymbals drive home the case for the pianist's late-period work representing
some of his most freewheeling playing. Tracey plays a tom-tom intro
initially reminiscent of Max Roach's for Sonny Rollins's St Thomas
before arriving in stealthy doodles on See Meenah Latino (the only
original). Willow Weep for Me keeps trying to avoid its theme, and
Duke Ellington's swinger Great Times is a classic Tracey uptempo vehicle.
One of the great British jazz stories rumbles triumphantly on.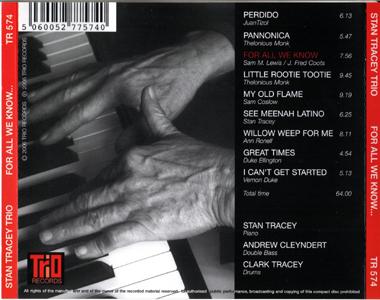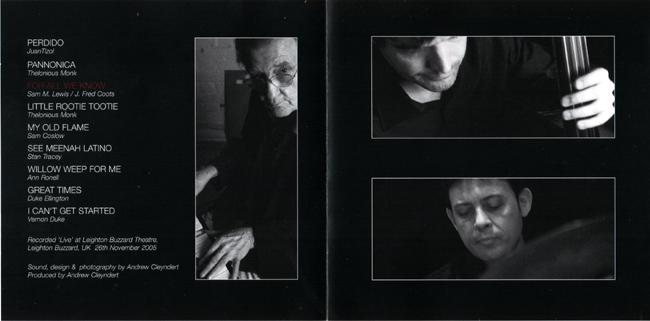 ---