Reviews from Solo to Big Band
Reviews
from Solo to Big Band

Stan Tracey Trio

Recordings – Solo:Trio
Stan with his regular rhythm section of Andrew Cleyndert on bass and Clark Tracey on drums establish a tight musical unit that continues to find new interpretations and insights in the jazz repertoire. Stan's percussive piano style finds a rare freedom within this grouping.
"Tracey's piano playing just goes on getting better. It grips you from the very first note with its twists and turns, its droll asides, its romping good humour tinged with plangent melancholy. Following a Tracey improvisation is taking a walk with a hugely knowledgeable but benignly eccentric companion. You never know quite where you will end up, but it is a very interesting journey".

Dave Gelly, The Observer, 1998
". This album.simply showcases the work of a world-class original."

The Times, 1998
"One of the top pianist-composers to be found anywhere, Tracey usually gets his bread-and-butter gigs these days heading a quartet, or sometimes a quintet. musicians through, welcome changes of pace. Ellington is represented here. (and) Thelonious Monk provides three tunes. Many pianists treat Round Midnight by drawing out the romantic side of what is, after all, a pretty melody: Tracey hardly does that, but his is a more reflective version than any of Monk's. It hardly needs saying by now that, if the roots are clear, he adapts Monk's blunt no-frills attack and Ellington's dramatic flourishes utterly to his own ends."

Ronald Atkins, The Guardian 1998
"Stan Tracey's material (an Ellington staple, a triple helping of Thelonious Monk, a Ron Carter blues, plus a few standards) .his approach (the startling choppy rhythms, the sudden transitions from clanging chords to skipping runs, the infectiously robust delight in finding new routes through familiar chord sequences) . simply showcases the work of a world-class original".

The Times, 1998
Stan Tracey is one of the foremost British pianists. (in this CD). we get to hear Tracey as he moves from expressive single note runs which emphasise the rhythm of a composition to lush chords which emphasise the composition's harmonic basis. a rhythm section. seems to free him up. and allows him to play more rhythmically. .Monk and Ellington are probably his foremost influences, but I hear other pianists too, people like Randy Weston and Abdullah Ibrahim. but this is no mere pastiche of styles, it's an individual voice. Moreover his ideas are so good, he's more that just worth listening to, his playing is fun and exciting too.(The rhythm section of Andy Cleyndert, bass and Clark Tracey Drums). take interesting solos. but they don't sparkle the way Tracey does.
Stan Tracey is well-known in Britain. After listening to this disc, I wondered why he isn't better known in the US.

Eric Saidel – Cadence Magazine 1999
Trio – Live performance
"Art Farmer is in residence at the Soho Pizza Express with a British piano partner of his own generation whose signature is similarly unmistakable – Stan Tracey. This immediately makes the gig unique. Tracey's trio (with bassist Andy Cleyndert and drummer Clark Tracey, both of whom act like extensions of their boss's limbs) appears with Farmer. and if the pianist is finding his return to this selflessly demanding role a mixed blessing, he isn't letting on. He prods and nudges Farmer if the trumpeter flounders, leaves him alone when the wistful dance of the brass lines seems at its most ethereally bouyant, and he leads a couple of robust and hard-driving trio charges when Farmer takes five. the show. evolves through moods of disengagement and intensity, fluency and hesitant rummaging. that's what is so absorbing about it."

John Fordham – The Guardian 1999
"tearaway tempos have never held terrors for Stan Tracey. Following the canny example of his idol, Thelonious Monk, he makes no attempt at right-hand pyrotechnics, but slips smartly into block-chord mode instead.(which) sounds richer than a speed merchant using left hand only , and it also creates space for bass and drums, something eagerly seized upon by Andrew Cleyndert and Clark Tracey. On fast numbers..these younger guns hold everything together".
Jack Massarik, London Evening Standard, 1999
Stan Tracey Quartet
Already well established on the jazz festival circuit, the Quartet brings an elegance and sophistication to a classic jazz form. With either tenorman Bobby Wellins (with whom he re-established their unique musical partnership two years ago at Stan Tracey's 70th Birthday Concert at the Queen Elizabeth Hall), or Gerard Presencer on flugelhorn and a rhythm section of Andy Cleyndert on bass and Clark Tracey on drums, the Quartet is a prime example of world class British jazz musicians who continue to find new and exciting interpretations of jazz standards so beloved of the listening audience.
BOBBY WELLINS – (tenor saxophone) first worked with Stan Tracey in the late '50s and featured on Stan's classic 'Under Milk Wood' album. Regarded by his peers as a jazz original, the strong compositional aspect of his improvisations make one think of Rollins and the freedom of his playing within tight formats as reminiscent of Warne Marsh. His own distinctive sound and elegant phrasing make him one of the few world-class British jazz musicians. His last CD, The Satin Album, was the top UK jazz album of 1998.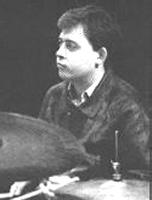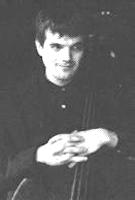 CLARK TRACEY – (drums) has been working regularly in his father's bands since 1978 and led his own Quintet from 1984-1992. His early influences included the celebrated American drummers Sam Woodyard and Art Blakey and the acclaimed British drummer Bryan Spring. His 'Clark tracey Tribute To Art Blakey' is a popular feature of the festival scene. Clark has also produced 15 of the 50 albums in which he has featured and has worked with a broad spectrum of international jazz musicians, from Kenny Baker to Kenny Wheeler, including Pharoah Sanders, Scott Hamilton, Bireli Lagrene, Dee Dee Bridgewater and pop star Sting. He has featured on 24 albums, three with his Quintet, and most recently with his new Sextet, called Full Speed Sideways.
ANDY CLEYNDERT – (bass) first professional engagement at 18 with Tony Mann Trio supporting Pete King, Art Farmer and Joe Newman. Moving to London he worked with Bobby Wellins' and Don Weller's bands and toured with Ted Curson and Bobby Watson. He also worked with Bud Shank, George Coleman, Ray Bryant, John Hicks and Lee Konitz. He has recorded with Jamie Talbot and Louis Stewart, joined the Ronnie Scott Sextet and has most recently worked with Annie Ross. He is a regular member of all Stan's groups.
Quartet – Recordings
Comme d'Habitude
The Stan Tracey Quartet have recorded a new CD, Comme d'Habitude (Jazzizit JITCD 9816) a tribute to Sinatra.
"Song buffs will recognise the title as the original French version of 'My Way'. And these 12 pieces are all explorations of Sinatra favourites. Wellins' beautiful tenor saxophone tone makes the ballads sound even more intense, while Tracey's piano drives the swingers even harder. Excellent bass and drums from Andy Cleyndert and Clark Tracey"

Dave Gelly, The Observer 1999
Under Milk Wood Jazz Suite
Stan and Bobby have re-created their past success with a new touring production of Stan's famous composition, Under Milk Wood Jazz Suite, with narration by Welsh actor Philip Madoc. It has again been re-issued and is now available on the independent UK label Jazzizit.
Under Milk Wood 1965



1965 quartet: Jeff Clyne, Stan Tracey, Bobby Wellins, Jackie Dougan
"…the masterly interplay between Tracey's piano and the tenor saxophone of Bobby Wellins. Wellins is one of the very few British jazzmen with originality and the aspect of his style which comes across to so great effect is his restraint, his use of silence in the solo, his ability to create light and shade instead of endless rambling streams which so many modern musicians indulge in."

Benny Green, Broadcaster and journalist, 1965
Under Milk Wood.".is a gem, a perfect demonstration of blended small group jazz. Bobby Wellins' silkily smooth tenor sax (sounding for all the world like a Scottish Stan Getz on the beautiful ballad Starless and Bible Black) is countered by Tracey's characteristically choppy, side-long piano playing. Not only is Tracey an exciting distinctive improviser – he's also one of the most inspiring accompanists in the business. On the concluding AM Mayhem, he stokes up Wellins solo with some wonderfully thunderous syncopations. Lover Man was resuscitated impressively as a blues-edged version in which Wellins' moving, almost plaintive solo captured the same sort of piquant melancholy that made the late Booker Ervin's slow blues work so affecting."

Adam Lively, Mail On Sunday – 1993
"Stan himself is, quite literally, brilliant. His compositions all have that classic modern jazz feel: the heads are glaringly apparent and the solos obviously placed, but that's what modern jazz should be about. Tracey has always been a progressive pianist with his self-created bounds and the rest of his band seem to share that ideology. Jazz for jazz lovers."

Rhythm Magazine 1993
Quartet – Live performance
"Stan Tracey last night captivated the Royal Northern College of Music with a brilliant revival of his 1965 jazz suite, inspired by Under Milk Wood. His quartet sensitively interpreted the music, perfectly complementing actor Philip Madoc's reading of highlights from Dylan Thomas' classic poetic portrait of a Welsh village.
The performance's reuniting of Tracey with tenor saxist Bobby Wellins, who made an inestimable contribution to the original recording of the suite, was a major factor in the evening's triumph. Wellins, together with Tracey and the other half of the quartet, bassist Andy Cleyndert and drummer Clark Tracey, also presented a set of jazz standards. the Duke Ellington-Shorty Baker collaboration, Mr Gentle and Mr Cool emerged transformed, principally by Tracey's piano giving the piece a quirky, angular Monkish character. The centrepiece of the evening was unarguably Under Milk Wood. The marriage of Tracey's music to Madoc's colourfully restrained narration was impeccable."

Chris Lee, Manchester Evening News, Nov. 1998
"It is now 19 years since Stan Tracey first introduced his jazz suite Under Milk Wood. The record was an instant, if modest, success and one of the pieces on it, the haunting 'Starless and Bible Black' remains probably the finest single recorded performance by a British jazz group. With the plaintive sound of Bobby Wellins' tenor saxophone floating above the subdued piano chords, it evokes to perfection the atmosphere of a soft spring night.it was one of the most enjoyable concerts I have attended for ages. everyone writes suites these days. but none of them has lasted like this one."

Dave Gelly, The Observer, 1984
Stan Tracey Octet

Recordings
Portraits Plus
" .'Hot Jazz' wrote Alfred Lion, co-founder of Blue Note records in 1939, 'is expression and communication.not its sensational and commercial adornments'. Lion's sentiments could, of course, have described wonderful work by the remarkable musicians who subsequently worked for his label – Dexter Gordon, John Coltrane, Hank Mobley, Lee Morgan and many others. But 'Portraits Plus' perfectly fits the description too. 'Expression and communication' are exactly what it's all about."
John Fordham, The Guardian 1994
"..Stan is now making his debut on Blue Note. To mark the occasion he decided to pay tribute to four of his jazz heroes, Newk's Fluke is for Sonny Rollins with whom he collaborated at Ronnie Scott's Club in the sixties. Rocky Mount acknowledges the piano inspiration of Thelonious Monk; One For Gil relates to the firm friendship he forged with Gil Evans after they shared stages in the late seventies; Clinkscales is named after the lady who taught Duke Ellington – a major motivation for Stan. Within writing that gets the utmost total value from the five front-line, Stan combines his customary quirkiness and allusions to the subjects he is portraying. On these and two other originals, Spectrum No. 2 and Mainframe, varied and effective solo passages are heard from everybody – each of these men's reputations being upheld or added to. Note particularly Peter King's soaring out-pourings on Clinkscales. Stan's own solos on this warmly recommended CD are some of his most rompingly idiosyncratic – hearing them is like a welcome greeting with an old friend. And that rich chordal clunk of his that prods the ensemble all the way is a sound I would know and have known anywhere."

Les Tomkins, Jazz Rag 1994
".A uniformly impressive debut (on Blue Note) by arguably Britain's most gifted talent. A personal salute, in composition, to Duke Ellington, Thelonious Monk, Gil Evans and Sonny Rollins, Portraits Plus is yet another milestone in the career of the veteran pianist, composer and arranger."

Music Week 1994
" .For those who have observed the cynical and bizarre treatment of British jazz by the major record companies since the so called 'boom', it is perhaps hard to believe Blue Note could have got it right. Stan Tracey can neither play the tenor saxophone quickly, nor can he rap (to common knowledge), but at the age of 68 and with over 40 years spent honing his own singular piano and composition skills, he can communicate from within in the modern jazz idiom with a clarity that comes from honest intentions.
Portraits Plus is a good start to Tracey's relationship with Blue Note, recording with an octet consisting of some top British musicians who have grown up with his music.This is a highly recommended album."

Time Out Magazine 1994
".As Portraits Plus firmly underlines, his commitment to the essential jazz tradition has been thorough and absolute, and he evinces relief, not envy, at not having been drawn into the boom-and-bust logic of the so-called jazz boom of the early 1980s, which saw young players propelled into silly-money contracts that seemed to require seasonal "changes of artistic direction."…Portraits Plus is quintessential Tracey, dour but vital, complex but precisely focused. After all this time, no one will expect him to jump over the house, but he can afford to be quietly cheerful and more than a little proud."

Brian Morton, Sunday Times 1994
"..Tracey's quality hallmark is all over this album – that special heavyweight quality, with sumptuous arrangements peppered with bright punchy solos from Guy Barker, Peter King, Don Weller, Art Themen and Tracey's own angular piano.."

Neville Hadsley, Birmingham Post 1994
".The Tracey big band performances are particularly compelling but, like Christmas they're expensive to run and come round rarely. An octet session like this one is not a compromise; but where it lacks the sheer ensemble power of a bigger orchestra, it majestically flaunts the kind of textural and stylistic variety that comes through careful choice of musicians. To ensure the variety Stan called in three veteran British saxophonists he has worked with over the years. On alto, Peter King gave him hard-edged attack; on tenor, he had Don Weller for rich pungency; and on tenor and soprano there was Art Themen, one of Britain's most distinctive players, whose talent for bizarre waywardness matches Tracey's."

Anthony Troon, The Scotsman. 1994
Octet – Live performance
Another popular group with jazz festival audiences. Stan achieves a sound and energy that rivals larger bands with his line-up of Peter King (alto sax), Don Weller (tenor sax), Art Themen (tenor sax), Malcolm Griffiths (trombone), Guy Barker (trumpet), Andy Cleyndert (bass) and Clark Tracey (drums).
In 1997 Stan was invited by the British Council in Hong Kong to perform a specially commissioned work for the Octet during the run-up to the hand-over of the Colony to China. On the strength of this the Chinese Government invited the Octet to give a concert in Beijing and Guangzhou – the first time a jazz musician had received an official invitation to perform in mainland China.
".a rare opportunity to see the cream of Britain's horn players supported by as fine a rhythm section as could be found anywhere in the world.
Tracey is Britain's greatest jazz composer and arranger as well as one of its finest pianists.
Tracey led from the piano, soloing infrequently but with his customary knack of avoiding the obvious when he did. This without a doubt was the jazz highlight of the year.it doesn't get much better than this."

Robin Lynam, South China Morning Post 1997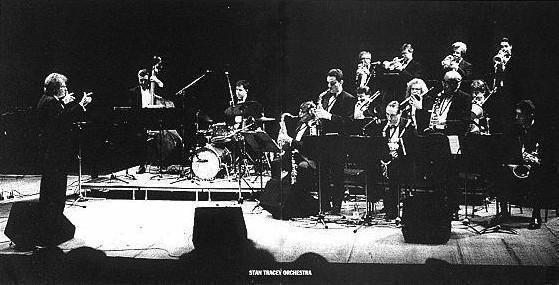 Stan Tracey Orchestra

Live performance
"Why does jazz sound so much better in a club than anywhere else? The question occurred to me, not for the first time, as I was listening to Stan Tracey's 15-piece band at Ronnie Scott's Jazz Club last week. They were performing his new suite, 'Genesis' and making such an unforced and thoroughly enjoyable job of it that I couldn't help reflecting..that this was the sort of thing to make you chuckle, stamp the feet and yell encouragement at moments of inspiration. It's no secret that Stan Tracey is a musician of the school of Ellington. His orchestra contains the same instruments as Ellington's, his own piano style is similarly sparse and quirkish, and he has a comparable sense of when to leave a soloist alone and when to unleash the band.when for instance did we last hear a five-piece section playing close-harmony riffs? . When did a modern jazz composer last call upon a drummer to play four-in-a-bar with brushes? And when did you last hear the limpid tones of the clarinet in any contemporary jazz context at all? . Stan Tracey's music is by no means pastiche, but the Ellingtonian spirit hovers over it nevertheless.but to have absorbed so much from the greatest of all jazz composers, and to have applied the lesson in such a personal and unstudied way, is a remarkable achievement".

Dave Gelly, The Observer 1988
The Stan Tracey Big Band were also the highlight of the Ellington Centenary Festival at the Queen Elizabeth Hall, London on 1 May 1999.
---